Miracles of Tróia, day 1
2016-09-17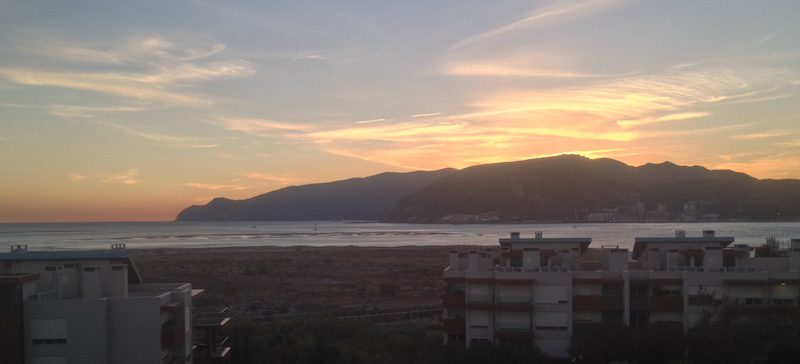 I just arrived in Tróia, Portugal, and checked in at the Aqualuz hotel. Beautiful room. Everything is fine. Well, almost everything – the Wi-Fi seems to suffer from manic depression, but apparently it works well enough to put this post online.
The trip so far was a bit experimental in terms of vessels and connections, though. I planned the route via rome2rio.com – pretty useful site, but the database doesn't seem to take the delays for baggage claims and similar realities into account. So if you intend to plan your trip this way I highly recommend to add some buffer time.
The trip so far looked like this:
Starting early at 9h in Wiesbaden, taking the bus to Wiesbaden main station.
From there I entered the S9 (it's a train) to Frankfurt Airport.
After that I spent some time with William James "The Principles of Psychology, Vol. 1" while waiting for my flight. Lift off was a bit delayed but still somewhere around 12:55h.
Arrival at Lisbon Airport was around 15h local time (one hour gained).
From there I took the bus number 744 to Entrecampos.
Arriving at Entrecampos I had a bit of a wrestle while searching for the train station. After asking several people I actually found a person working at a book store who showed me the way to the train station (okay, if you're not too exhausted you could find it without help: there is a bride for the trains leading over one of the streets that lead to Entrecampos).
There the train left at 16:45.
One hour later I arrived at Setúbal and took a taxi to the ferry port.
The ferries are leaving for Tróia every hour. Since I missed one by 10 minutes I had to wait for the next one which would leave at 19h. This left some time for testing the fish at a bar close the ferry port.
Finally I arrived at Tróia, asking a friendly employee of a local news stand where I could find the hotel … and luckily it was just a short walk away.
So that was my 12h – or actually 13h – trip for this day. Looking forward to tomorrow .. and maybe some fellow THU attendees are already here, we'll see.